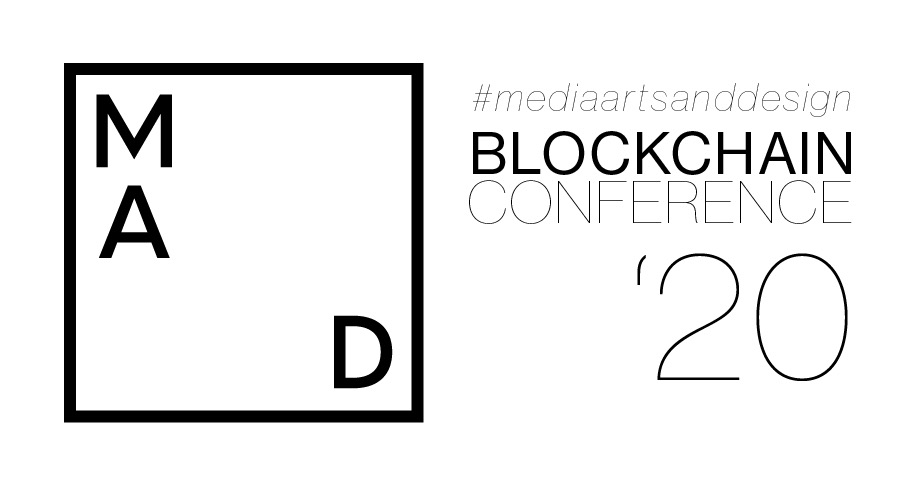 May 2-3 2020 @ Drexel University – 100% Online
Drexel University's Department of Digital Media, supported by the Education Arcade @ MIT, the LIVE LAB @ Texas A&M, the Department for Arts and Cultural Sciences @ Donau-Universität Krems and the Conceptualising Blockchain group @ University of Vaasa is organising a conference & anthology on the usage of Blockchain technologies in the fields of Media Arts and Design. The conference will be hosted online (due to COVID-19) by the Westphal College of Media Arts and Design at Drexel University in Philadelphia on the weekend of May 2-3, 2020.

Blockchain Conference Countdown!
Click here to download the PDF schedule.
Any questions? Please contact blockchain20@drexel.edu
| | | | | | |
| --- | --- | --- | --- | --- | --- |
| TAMU | DREXEL&MIT | DUK | VAASA | | |
| GMT -5 | GMT -4 | GMT +2 | GMT +3 | Speaker | Topic |
| SATURDAY | MAY 2nd | | | | |
| 06:30 | 07:30 | 13:30 | 14:30 | LOGIN TO ZOOM | |
| INTRODUCTION | | | | | |
| 07:00 | 08:00 | 14:00 | 15:00 | Michael Wagner | Welcome Words |
| 07:10 | 08:10 | 14:10 | 15:10 | Nicholas Jushchyshyn | Introduction of Drexel Media Program |
| 07:20 | 08:20 | 14:20 | 15:20 | Scot Osterweil | Introduction of the MIT Education Arcade |
| 07:30 | 08:30 | 14:30 | 15:30 | André Thomas | Introduction of the Texas A&M Live Lab |
| 07:40 | 08:40 | 14:40 | 15:40 | Alesja Serada | Introduction of the Conceptualising Blockchain group at Vaasa University |
| 07:50 | 08:50 | 14:50 | 15:50 | Christine Rigler & Natalie Denk | Introduction of the Department for Arts and Cultural Sciences at Donau Universität Krems |
| BLOCKCHAIN | FUNDAMENTALS | | | | |
| 08:00 | 09:00 | 15:00 | 16:00 | Alexander Pfeiffer | A short explanation about blockchain technologies to non-experts. |
| 08:30 | 09:30 | 15:30 | 16:30 | Invited talk: Joshua Ellul | Introducing the specifics of Ethereum to non-blockchain-experts |
| 09:00 | 10:00 | 16:00 | 17:00 | Invited talk: Lior Yaffe | NXT/Ardor: What the pure PoS pioneers can offer to the media & arts community. |
| 10:30-10:45 | (GMT -4) BREAK | | | | |
| SELECTED | SPEAKERS | FOLLOWING | THE | SUBMISSION | PROCESS |
| 09:45 | 10:45 | 16:45 | 17:45 | Selected Keynote I: Julia Staudach | The Logbook Token, a diary on Blockchain |
| 10:20 | 11:20 | 17:20 | 18:20 | Corrado Andriani Jr. | Ardor.Rocks: Social Network made different. Introducing: The Conference Blo(ck)g of Abstracts |
| 10:40 | 11:40 | 17:40 | 18:40 | John Larsson | Fight Against Counterfeinting in Media and Arts |
| 11:00 | 12:00 | 18:00 | 19:00 | Selected Keynote II: Nemanja Avramovic | Introducing Cryptic Legends  – a Hero-Manager on Blockchain |
| 11:35 | 12:35 | 18:35 | 19:35 | Ernst Gebetsroither | Hot City: Gamification as a means of generating data for energy-oriented neighbourhood planning |
| 11:55 | 12:55 | 18:55 | 19:55 | Thomas Staudacher | Strategic opportunities and risks of blockchain technologies in the gambling industry |
| 12:15 | 13:15 | 19:15 | 20:15 | End of the first day | |
| SUNDAY | MAY 3rd | | | | |
| 06:30 | 07:30 | 13:30 | 14:30 | LOGIN TO ZOOM | |
| 07:00 | 08:00 | 14:00 | 15:00 | Ana Santiso | Introducing the first game of Tarasca DAO: "Mythical creatures of the world" |
| 07:20 | 08:20 | 14:20 | 15:20 | Alexander Pfeiffer | Blockchain and the gaming industry: an overview |
| 07:40 | 08:40 | 14:40 | 15:40 | Selected Keynote III: Lloyd Donelan, Nick Muniz and Michael Black | Gallery-Defender: Serious Game & Assessment on Blockchain |
| 08:15 | 09:15 | 15:15 | 16:15 | Jürgen Hobarth | Collection Games 2020: How Major Sports Leagues bet on Non-Fungible Tokens |
| 08:35 | 09:35 | 15:35 | 16:35 | Thomas Wernbacher | Why (open) blockchains will win in the end: Findings on the success of networks in the fields of sociology, psychology, arts & biology. |
| 08:55 | 09:55 | 15:55 | 16:55 | Selected Keynote IV: Andreas Humpel | Crypto Wiener Most Leiwande Collectibles |
| 09:30 | 10:30 | 16:30 | 17:30 | Bernhard Nessler | On the project AbstractBlocks |
| 10:50-11:00 | (GMT -4) BREAK | | | | |
| SPECIAL TRACK | HOSTED BY THE | CONCEPTUALISING | BLOCKCHAIN | GROUP AT | VAASA UNIVERSITY |
| 10:00 | 11:00 | 17:00 | 18:00 | Daniel Kraft | Scalable and Fully Decentralised Blockchain Games |
| 10:30 | 11:30 | 17:30 | 18:30 | Tuomas J. Harviainen | Blockchain games: Implications beyond User Adoption |
| 11:00 | 12:00 | 18:00 | 19:00 | Oliver J. Scholten | Gambling and Crypto-Games: Mechanics and Definitions |
| 11:30 | 12:30 | 18:30 | 19:30 | Alesja Serada | The Fair Game and the Fair Price on a Peer to Peer Market |
| CLOSING | WORDS | | | | |
| 12:00 | 13:00 | 19:00 | 20:00 | Michael Wagner, Alexander Pfeiffer, Alesja Serada, André Thomas & Natalie Denk | Closing Words |
| 12:10 | 13:10 | 19:10 | 20:10 | Debriefing of the origanization committee and speakers who want to actively participate in the discussion. | |