Drexel Launches the Immersive Research Lab
Located in the heart of the Westphal College of Media Arts & Design's URBN Center, the Immersive Research Lab (or IRL) is a lab space dedicated to the study and research of immersive media including VR, AR, Immersive Projection and other technologies. The lab brings these technologies together in a single, dynamic space specifically designed to encourage collaboration across programs, departments and even different colleges throughout Drexel University.
While the department has over a hundred VR ready computer systems distributed throughout other classrooms and labs in the department, the IRL is designed specifically for Immersive Media. The floor space is almost completely open, with trussing supporting multiple motion capture systems and an ambisonic audio system. Of course there is a collection of both Macs and PCs in the lab to enable VR and AR development for almost any consumer platform, but the lab also features specialized HP-ZVR Backpack computer systems that can be worn, untethered, by users as they interact in virtual spaces using VR controllers, or the motion capture systems. The lab can also be networked with Animation, Capture and Effect Lab's larger motion capture system across the hall to facilitate "larger than room scale" virtual experiences.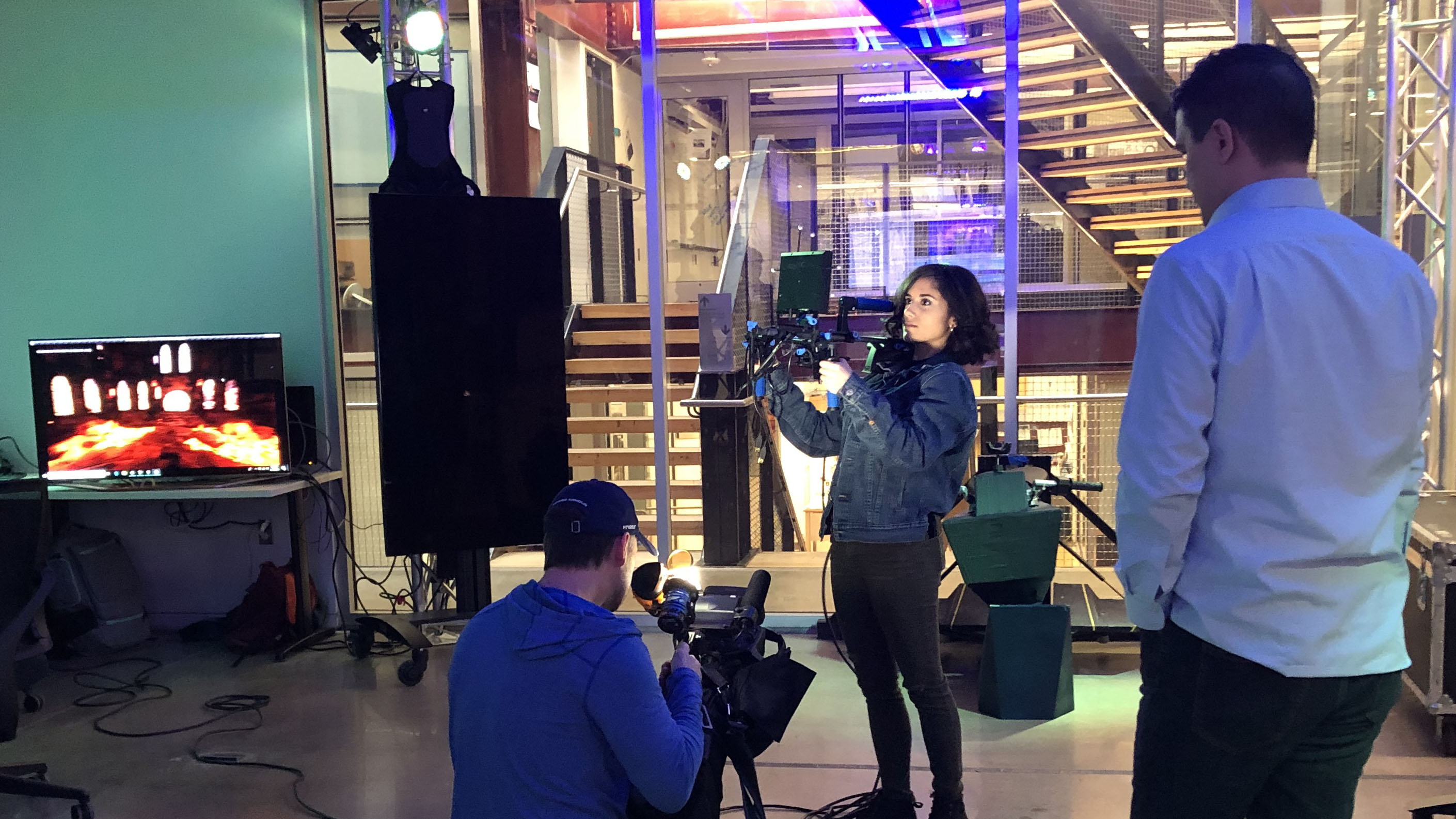 Reporters from Philadelphia's NBC10 visiting the IRL to learn about the latest technologies available to Drexel students. Take a look at their full report here on NBC10's website.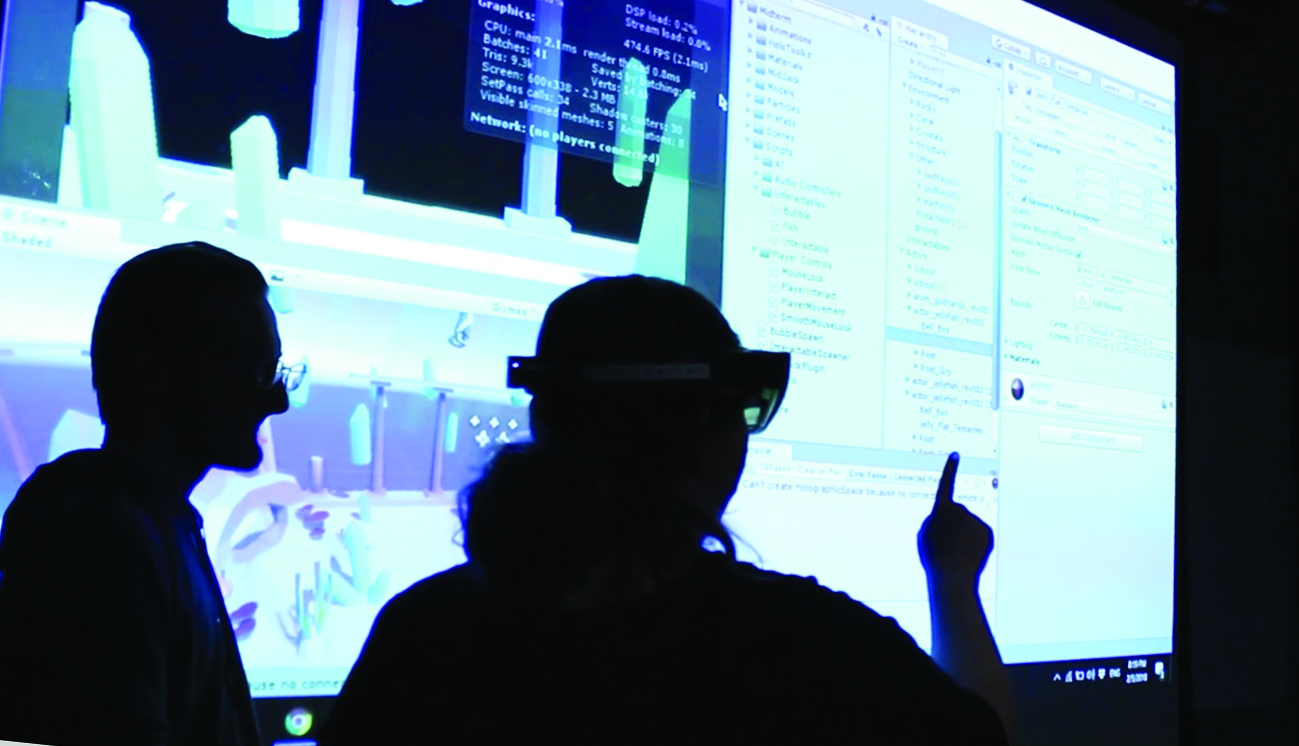 Partial List of Equipment, Tools and Facilities in the IRL
Mac Pro Workstations (for OSX & iOS development)
HP-ZVR Backpack Workstations
MSI Dual GTX 1080 Laptop
MSI GeForce 1070 Laptop
Dell 7910 Multi-GPU Workstations
Magic Leap Headset System
Microsoft Hololens AR Headset Systems
Windows Mixed Reality Systems
HTC VIVE & VIVE Pro VR Headset Systems
Oculus VR Headset Systems
Oculus Go VR Headset Systems
Optitrack Motion Capture System
Vicon Motion Capture System
iClone Facial Motion Capture System
Leap Motion Hand Tracking Systems
Samsung 360Round Stereo 360° Cameras
Nokia OZO Stereo 360° Camera
VUZE Stereo 360° Cameras
ZED Mixed Reality Camera System
Drexel-built custom 360° Stereo Camera Systems
Drexel-built custom VR-Cycle ride
16-foot Diameter Fulldome Projection System
X-Wing Cockpit
4k Stereo and 4k Mono display screens
LED Lighting Systems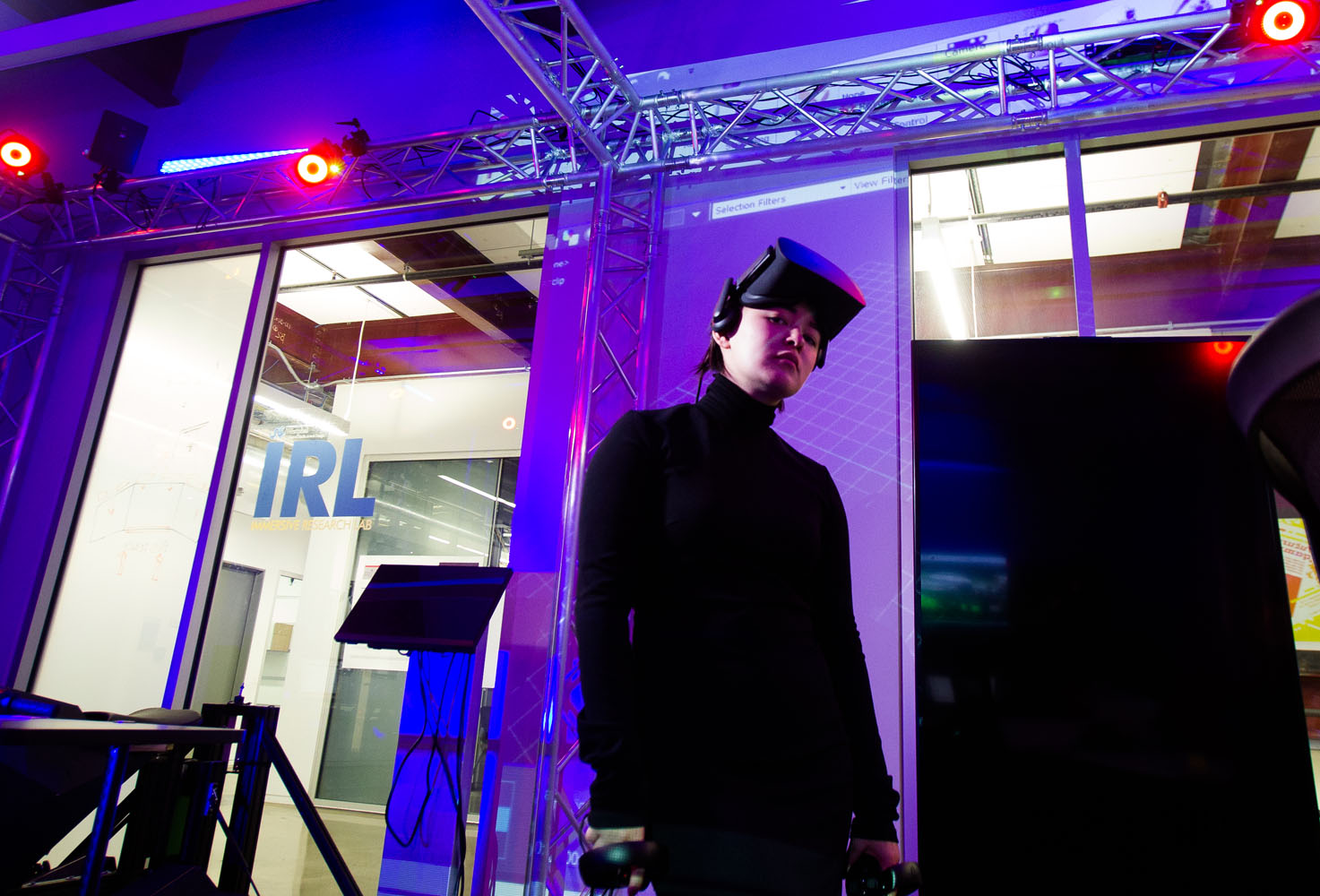 Located by the central staircase and elevator of the URBN Center's open floor plan, the lab is in the center of all the action in the building. From the lab, you're just steps away from the laser cutters and 3D printers used to create custom hardware, 3 different screening rooms, the product design and fashion design departments, and just across the hall from the main motion capture and greenscreen studio in the ACE-Lab. Most of the wall space around the lab is glass, which makes the work being done inside readily visible to everyone passing by.
As a result of the attention the space gets, there are routinely faculty and students from all corners of the university working together in the lab. Computer Science, Immersive Media, Animation, Game Designers, the Nursing College, Product Designers… really anyone with an interest in Immersive Media eventually finds their way to this lab where the resources to develop and refine almost any kind of immersive media project are in place and ready to be used.
Immersive Research Lab Projects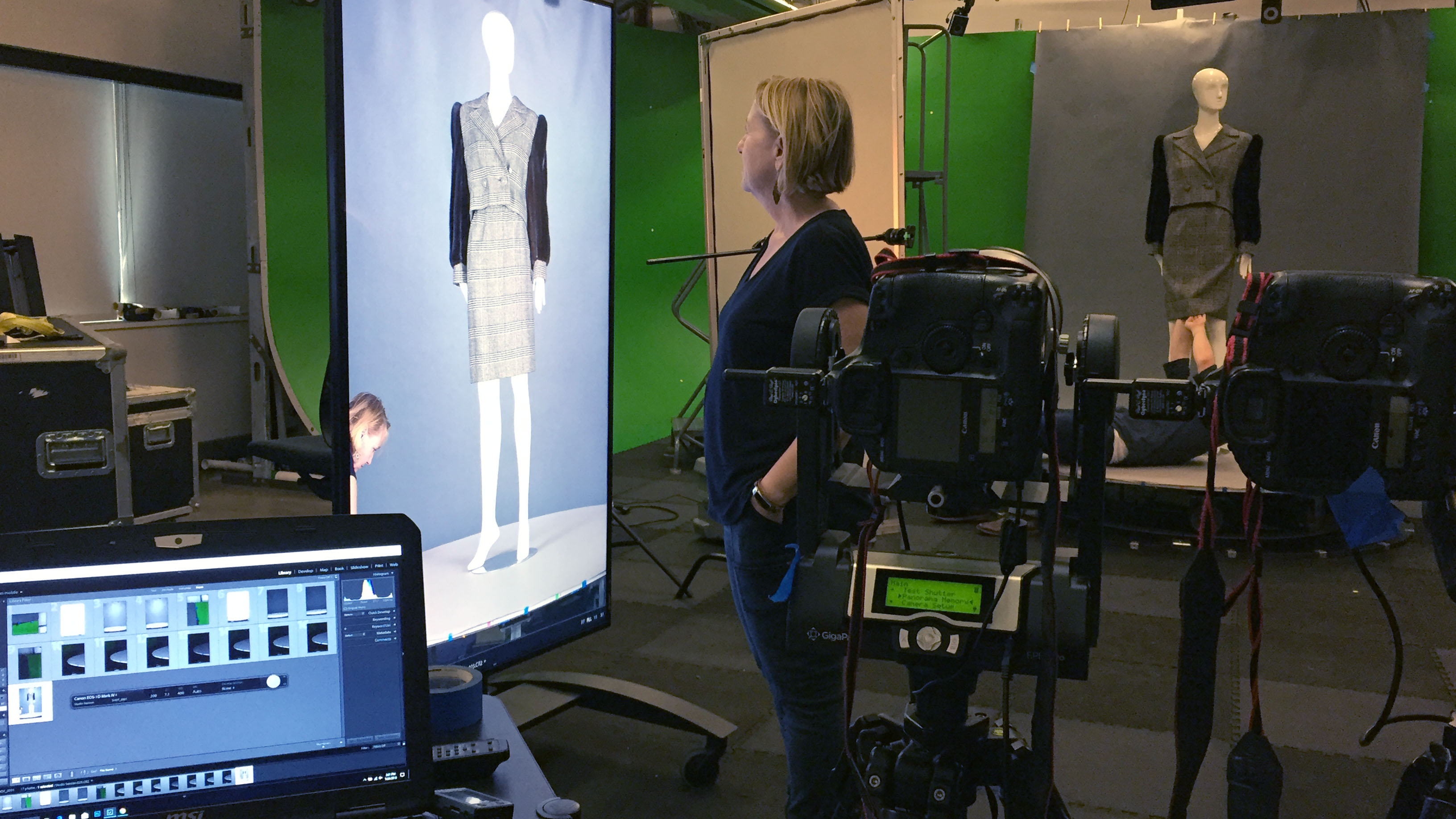 James Galanos Interactive Exhibition
Faculty and students worked in the IRL to create 360° digital gigapixel views of garments by famed designer James Galanos. The team completed a fully interactive touch-based display which was opened to the public as part of the Pearlstein Gallery's retrospective exhibition of Galanos' work.
SIGGRAPH 2018 VR "Motocycle"
For the 2018 SIGGRAPH Conference, a group of students and faculty built a fully ride-able VR "Motorcycle" ride system where VR trackers were used to follow the real-world rides movements as a rider leaned into turns, and translate those movements into control inputs for several student-developed video games design specifically for the cycle. The project involved students from not just the VR & Immersive Media program, but also Game Design, Animation, Electrical Engineering, Mechanical Engineering, Product Design and Computer Science. In the end, we shipped the ride to Vancouver and exhibited it internationally at the 2018 SIGGRAPH Conference.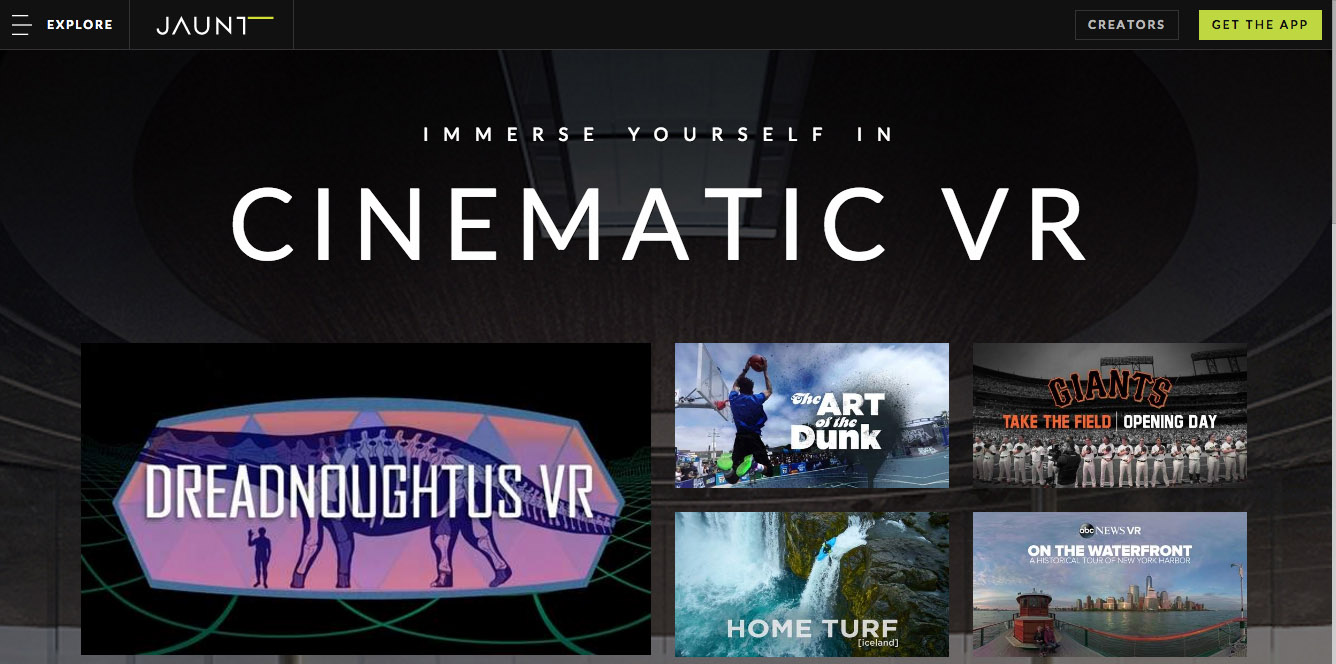 An immersive paleoart piece, Dreadnoughtus VR was the master's thesis project of graduate student Valentina Feldman. She worked in collaboration with graduate students working in Paleontology at Drexel's College of Arts & Sciences, and the staff at Drexel's Academy of Natural Sciences.